I enjoyed leading the Brand Design creative team at Cole Haan from 2017-2021. Find two of my favorite case studies below. To see more work from the Cole Haan archive including the Performance Running, Golf, and Tennis launches, please contact me.
---
ØriginalGrand Ultra
One giant leap deserved another.

Creative Director: Jillian Haney
Agency Partner: ManvsMachine
Audio: Zelig Sound

How Cole Haan made the most cushioned ØriginalGrand in the universe.


IDEAL FIT
An internal stretch bootie wraps your foot in a cozy, sock-like feel, while padding at the tongue and heel conform for great fit and no break-in period.


RESPONSIVE CUSHIONING
A high-volume, dual-density GRANDFØAM footbed provides a soft initial feel, followed by plenty of energy return in each step.
LIGHTWEIGHT CONSTRUCTION
Every component from the upper design to the foam density is optimized to reduce weight, so you can go further than ever.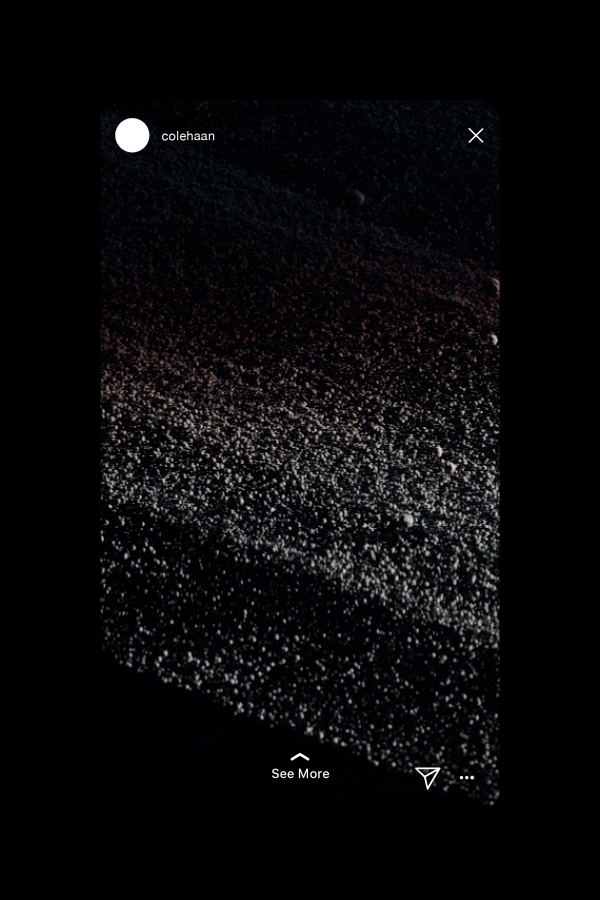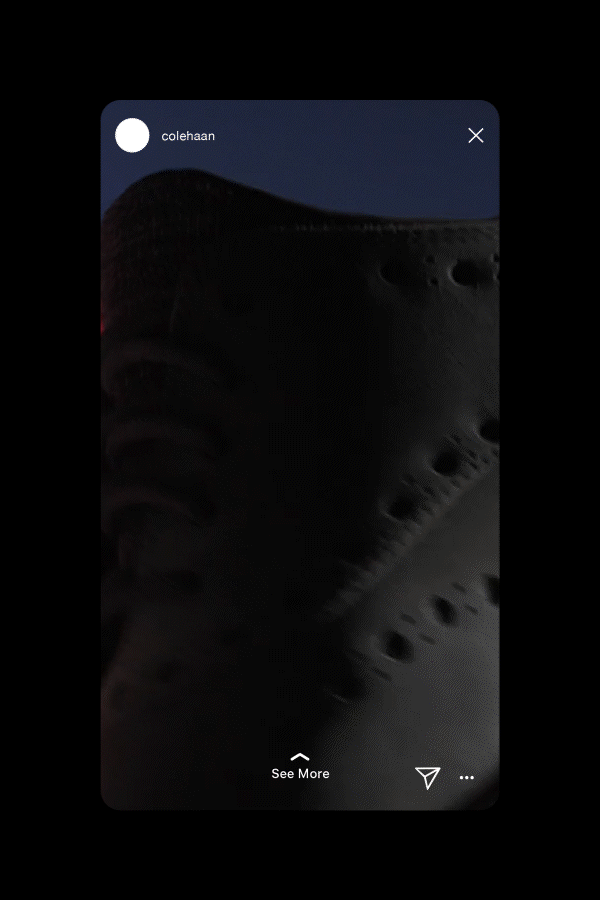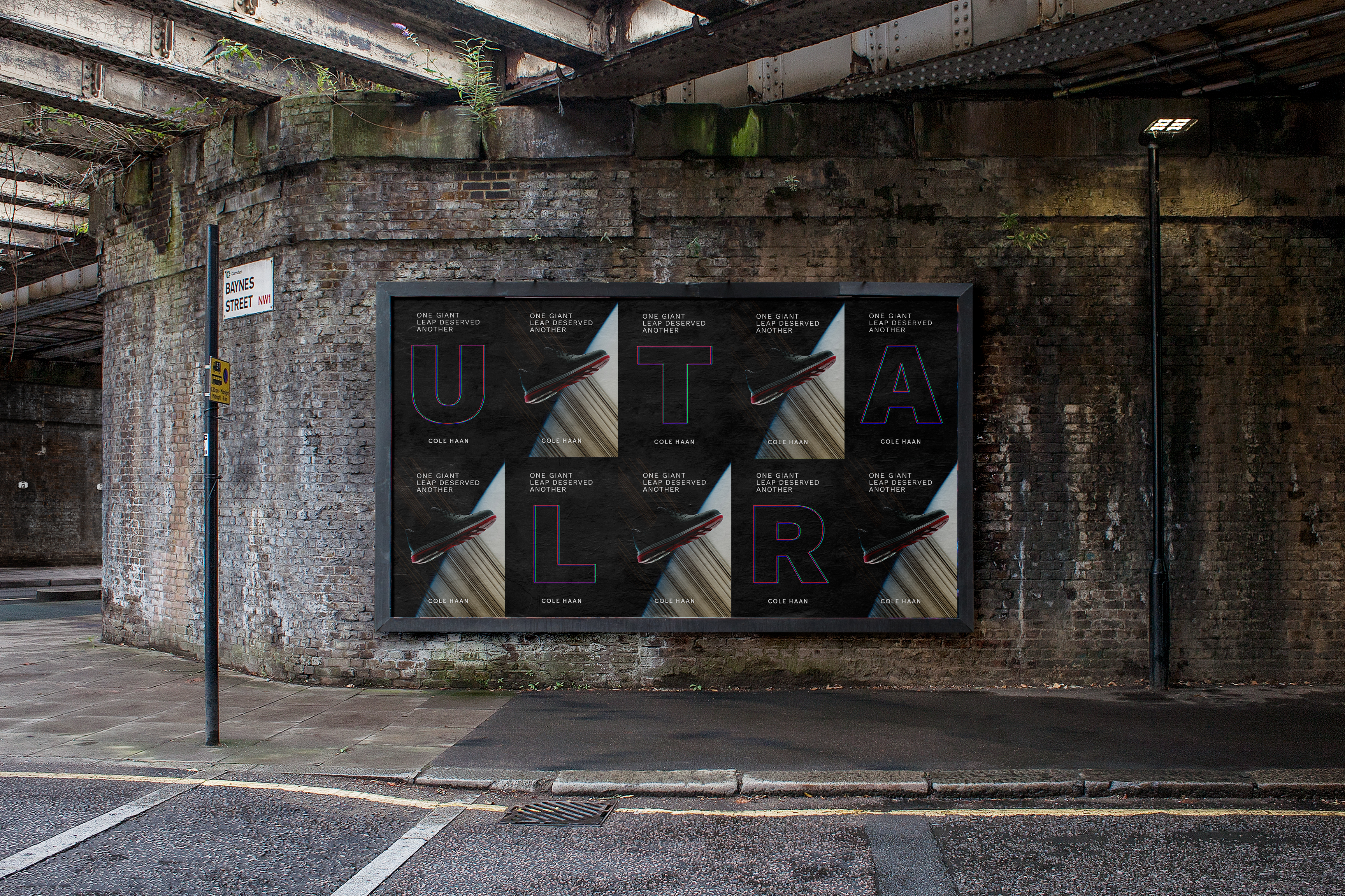 ---
Write New Rules
Cole Haan's Fall 2020 Campaign was an initiative that included many brand touchpoints, from social to digital to retail. The project invited global artists to share their points of view on how the world should work. Then, we used these contributions to create an experience revolving around the the launch of The 4.ZERØGRAND Oxford.

Creative Director: Jillian Haney
Writing Director: Jason Effmann
Artists: Shantell Martin, Frank Morrison, Mike Perry, SATR, Lauren Tsai, and Rafaella Vanni.
BRAND THESIS


Coming out of the global seismic shift in 2020, a significant amount of rebuilding needed to be done—personally, and universally. Choices would be made: What's essential? What's important? What is best suited to see us through to a better future?
STRATEGIC INSIGHT


At a time when everyone is rewriting the rules of how the world works, 4.ZERØGRAND is rewriting the rules of how an oxford works.
SEASONAL MANIFESTO

This is the end of an era—
And not a moment too soon.
Outdated thinking is what got us here;
More of the same
Won't give us the progress
We all want to see.

We need a new perspective.
Honest answers to the hard questions.
Deeper connections to what matters.
A point of view wide enough to take all of us in.

It's time to write new rules.
And if we're going to live by them,
Shouldn't we all get to write them?

Meet The Artists Bold Enough to Rewrite the Rules

@shantell_martin
Shantell Martin
Shantell's art starts with a single line that evolves into a complex landscape of faces, words, and figures. Perhaps you've seen her large scale installations, solo shows, or improvisational live art performances, because since this London-born artist moved to NYC to explore her art career, she's certainly made a name for herself by doing the exact opposite of traditional.
SHANTELL'S RULES
︎ Become an expert, then share your notes.
︎ Kindness is a strength, not a weakness.
︎ Create your own opportunities by using what you have access to.
@frankmorrison
Frank Morrison
Frank's career started in grafitti tags and has evolved into illustrations for award-winning children's books, solo shows, features in festivals like Art Basel, and creating work for Swizz Beats and Jordan Peele's film
Get Out
. Among his goals is to leave a memoir of African-American livelihood today, comforting those whose cultures have been forgotten or otherwise usurped.
FRANK'S RULES
︎ Revolutions don't start with permission slips.
︎ Know your history if only to build upon it.
︎ Recycle everything. From plastic bottles to ideas.
@mikeperrystudio
Mike Perry
Known for creating illustrations, books, zines, sculptures, installations, silkscreens, drawings, and paintings, this artist also won an emmy for his mind-bending animation work on Comedy Central's
Broad City
. Mike never misses an opportunity to gush over his love for New York City and, specifically, the sense of community he's found since moving here.
MIKES'S RULES
︎ The future won't make itself.
︎ Call your mother.
︎ Experiment. The process of discovery is everyday magic.
@satrxx
SATR
Graffiti-world wunderkind SATR, born Deng Cuixin, has been on a roll for years now, exhibiting her work and fighting graffiti battles across Canada, Europe, South America, and Asia. Born and based in Guangzhou, China, SATR fuses traditional Chinese ink painting modalities with spray-can techniques and a minimal color palette to create a graffiti style all her own.
SATR'S RULES
︎ Pay attention.
︎ Take courage. Leave directions.
︎ Listening is as important as speaking up.
@laurentsai
Lauren Tsai
After breaking out with a starring role on awkward Japanese reality TV show
Terrace House: Aloha State
as an 18-year-old, Lauren realized that, for her, success meant being an artist. She is currently more in tune with her needs than ever, with recent art collaborations that range from Marvel Comics to Marc Jacobs.
LAUREN'S RULES
︎ Never stop becoming.
︎ Personal transformation changes the world.
@rafaellavanni
Rafaella Vanni
The artist and self-proclaimed sneakerhead is best recognized by her exaggerated, subversive illustration style and quirky characters. A graphic design school graduate, Rafaella is based in Brazil where she collaborates with brands both local and international on everything from sneakers to posters, pins, and tote bags.
RAFAELLA'S RULES
︎ Care for our earth like you live here.
︎ Failure is not an option. It's a necessity.
︎ Know the rules and when to break them.
First-person artist storytelling videos were used in paid and owned social media channels.